Trophy Whitetail Deer
At Manitoba Guide Service our goal is to offer every hunter the opportunity to kill a mature trophy Canadian whitetail deer. We hunt the InterLake Region of Manitoba. We are proud of the fact that our hunters have had an annual success rate of over 85%. Our experienced guides have guided in this area for over 20 years. Their knowledge and dedication have contributed greatly to our success. We access our hunting area by four wheel all terrain vehicles (ATV),  four wheel drive trucks and snowmobiles.
Stands
We have permanent stands on some of our private property. We also hunt out of 16 foot, portable ladder stands with a 4 x 4 platform that is topped by a 6 foot high enclosure. This portability allows us to move stands in order to offer the hunters new opportunities throughout the week. All stands are fully enclosed with sliding windows, heaters and chairs. Due to the fact that hunters can withstand any weather conditions, we hunt the white-tail deer all day long to take advantage of the bucks movement in the rut while chasing does.
Accommodations
Hunters will stay in a lodge with all amenities, including an on-site cook. This allows the hunter to take advantage of flush toilets and hot showers. Bed linens and towels are provided. A washer and dryer is available for use so that the hunter does not need to over pack. The lodge has a satellite TV and phone.
Family Hunting Experiences
Most of our stands will accommodate two hunters so that a parent can hunt with their child of 12 years of age or older. Every year we successfully guide these young hunters and their parents to trophy whitetail deer.
Archery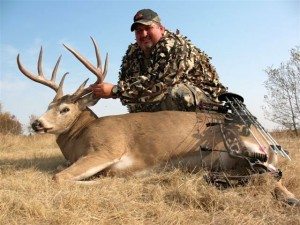 Our archery hunts are held in Southwestern Manitoba on over 3000 acres of private property as well as in the Lauder Sandhills Wildlife Management Area. This area is archery-only for non-residents of Manitoba and typically produces wide and tall-racked white-tailed deer. We have over 30 portable tree stands. Some of them are 16 foot ladder stands and some are portable lock-on stands. We continually scout the area and have the stands in place before the hunters arrive.
Manitoba is one of the few places in North America that you may legally kill a white-tail deer with it's antlers still in velvet. This is possible due to the early start of our archery season.
Rifle / Muzzleloader
Our muzzleloader and rifle hunts are held in Manitoba's Interlake on over 6000 acres of private agricultural farm land as well as extremely remote forests. The land we hunt has very little hunting pressure, allowing the bucks to mature. The deer we harvest every year are fully mature white-tails that generally score between 130 – 160 B&C with much larger ones taken as well. This area typically produces heavy beamed non-typical deer. Hunters are also given the opportunity to kill a timber wolf and coyote while hunting for their trophy whitetail deer. The opportunity of taking these elusive animals as a part of your deer hunt is only permitted in Manitoba.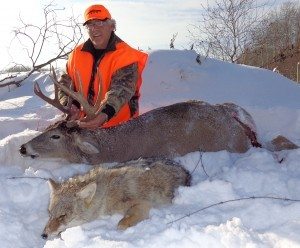 All Inclusive Trophy White-tailed Deer Packages
Accommodations for these hunts are at our lodge in the InterLake Region of Manitoba.
All hunts include:
Six days of fully guided trophy whitetail deer hunting
Pickup and drop-off at Winnipeg International Airport
Licensed guides
Meals and accommodations
Trophy whitetail deer preparation and meat care