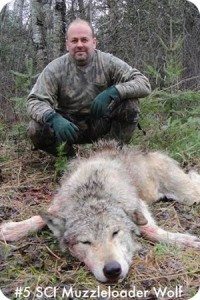 Timber Wolf
All fall black bear and whitetail deer hunters are also allowed to kill a timber wolf and a coyote as a part of their Canadian black bear or whitetail deer hunts. Black bear and whitetail deer licenses allow the hunter to kill a timber wolf and a coyote before shooting their trophy whitetail deer, or black bear. They are still allowed to kill a black bear or whitetail deer after taking one or both of these elusive animals. This opportunity is only available in Manitoba. At Manitoba Guide Service, we do not charge hunters extra for harvesting a timber wolf and coyote while fall black bear or whitetail deer hunting. Skinning of the wolf and coyote is included in the black bear and whitetail deer hunting package.
Manitoba Guide Service offers exclusive guided wolf hunts over pre-baited sites from heated blinds.  Our wolf hunting tactics have been proven to be effective year after year.
Canadian Timber Wolf
The Canadian timber wolf is perhaps the largest subspecies of gray wolf in North America!  The Canadian timber wolf typically stand about 32–34 inches (80–85 cm) at the shoulder and males weigh between 100 and 170 pounds (45–70 kg).  The wolf's long limbs are proportionally built for traversing through rough terrain like deep snow and through the swamps and ridges throughout our range in Manitoba.  The deep chest hosts large lungs, letting the wolf breath easily so that they can travel long distances in pursuit of game, sometimes up to 70 miles in a single day.  The large powerful necks on a wolf are strong enough to hold up the wolf's large head and is crucial for bringing down large prey.  Thick coats and a tremendous tail keep the wolf warm in the deep freezing temperatures of the long Canadian winter.  Skulls on the Canadian timber wolf average 12 inches long and the wolf is armed with an impressive collection of teeth coupled with large jaw muscles giving this animal an incredible bite strong enough to break bones of prey and crack the femurs of even the largest moose.
If you're looking to add a Trophy Canadian Wolf Hunt to your schedule give us a call and we can custom create a hunt to meet your needs.